Sneak Peak at New Postcard Size IRS Tax Form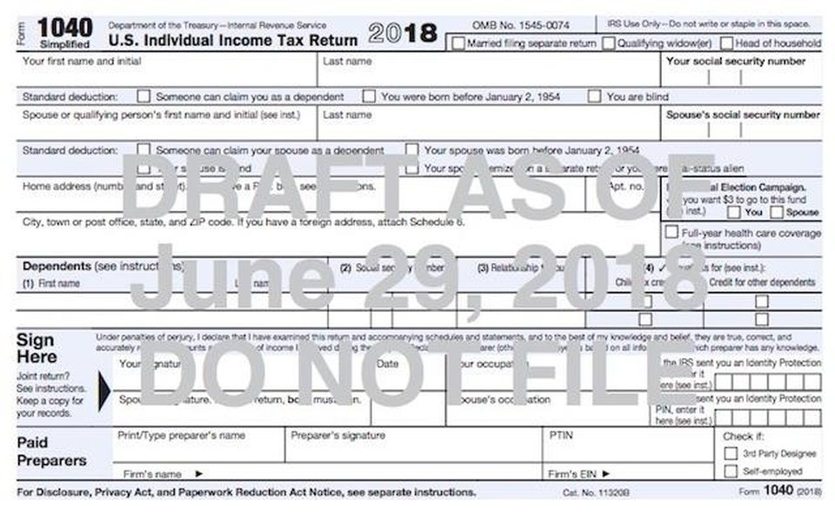 Here's How the New Postcard-Sized 1040 Differs From Your Current Tax Return
The 2018 IRS Form 1040 will replace the current Form 1040, as well as the Form 1040A and the Form 1040EZ. The IRS circulated a copy of the new form and will work with the tax community to finalize the streamlined Form 1040 over the summer.
This is an early release draft of the 2018 IRS Form 1040, U.S. Individual Income Tax Return, which the IRS is providing for your information, review, and comment... Do not file draft forms. Also, do not rely on draft forms, instructions, and publications for filing.

Meet the smaller — but not necessarily easier — IRS 1040 income tax form
The Form 1040, which most taxpayers use to file their income taxes, has been significantly condensed, but will it be a lot easier for taxpayers and preparers? Not necessarily.
The new form, which the Internal Revenue Service unveiled on Friday and will be used beginning in the 2019 tax season, is "postcard size," and replaces the previous two-page version of the 1040, as well as the Form 1040EZ and Form 1040A, which were for taxpayers with simpler financial situations.
The new form reflects some of the changes that were made under the Tax Cuts and Jobs Act such as the elimination of some tax breaks, including deductions for personal exemptions. The new form decreases the number of lines to 23 from 79.
Posted By
R. Michael Brown
Categories: